Kelly Slater after winning his 8th Pipline Title
Photo by Brady Lawrence / World Surf League
What a weekend and event we witnessed at The 2022 Billabong Pro Pipeline. A special moment for any surf fan where we got to see Kelly Slater dominate the decider in the season-opening WSL event.
The Pipe Pro 2022 goes down in history as an event with numerous surprises, great performances, and some of the best Pipeline conditions we have seen in years on Oahu's North Shore.
It also became a milestone for legendary pro surfer Kelly Slater and his incredible career after getting crowned with his 8th Pipe Pro title, only a few days short of his 50-years birthday.
It is safe to say that there is no one like Kelly Slater, and I doubt we would ever see anyone like him.
Kelly Slater won his first Pipeline event 30 years ago 

Is an 11-time world champion with a total of 56 event wins

Has been competing at the highest level of surfing for more than 3 decades

Has made quarterfinals, or better at Pipeline 13 times – in the past 15 years

Before this year, Slater had not won an event on the CT since 2016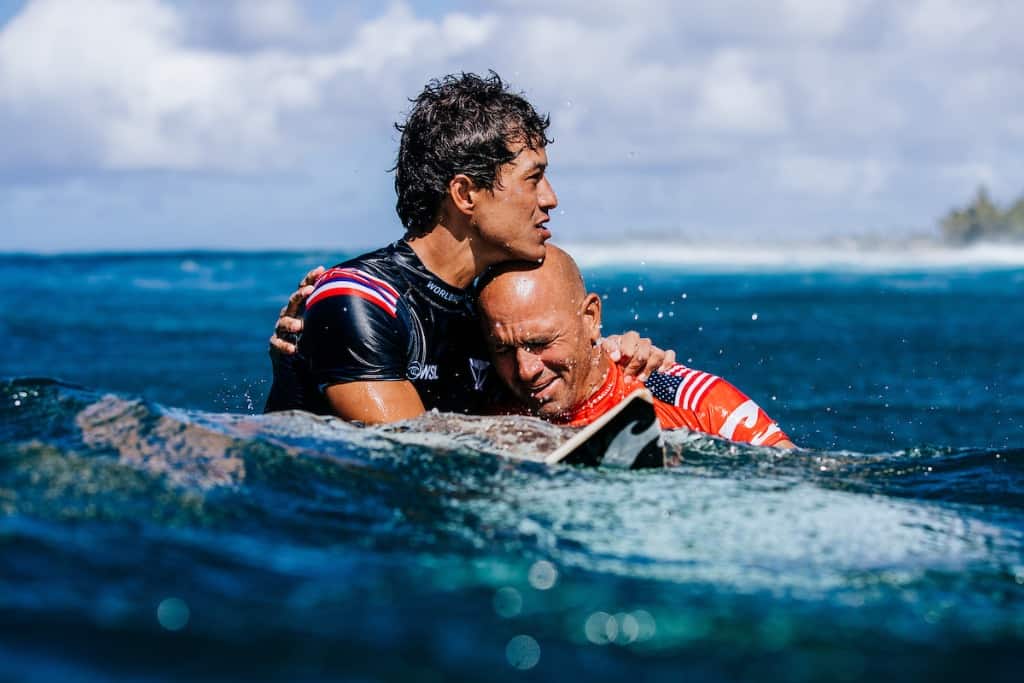 Kelly Slater & Seth Moniz cherishing a special moment
Photo by Brent Bielmann / World Surf League
Kelly Slater, The GOAT - Is Your 2022 Pipeline Champion
Kelly Slater secured his 8th Pipeline Pro title win after an intense final heat against Hawaii's Seth Moniz.
Both athletes had a great run at the event, and their way to the final heat consisted of high-scoring performances, facing some of the best competitors on tour.
Seth caused huge upsets by taking out big names such as Filipe Toledo and the former Pipe champion, John John Florence.
He made the Hawaiian people proud with his performances throughout the event and showed everyone that his a dangerous competitor to face this year.
The second place at Pipe Pro 2022 was his first final on tour, and with 26 years of age, this is only the beginning for Seth.
Kelly had an equally challenging route to the final, but despite turning fifty this week, we still have high expectations for Kelly when it comes to this event.
In rounds of 16, he took out the wildcard Barron Mamiya, who surprised everyone throughout the event with his performance at Pipeline. Kelly then went on to face Kanoa Igarashi and Miguel Pupo. Before securing his spot at the final heat.
In the end, Kelly Slater surfed an impressive final, where he sold Seth on some mediocre waves that resulted in gnarly wipeouts. Seth Moniz started to look a bit tired, and he had a hard time finding the right waves.
Kelly's experience at Pipeline and his tactical understanding of the sport made the difference in the end. He made some extremely good calls in terms of wave selection, and he surfed them to excellence!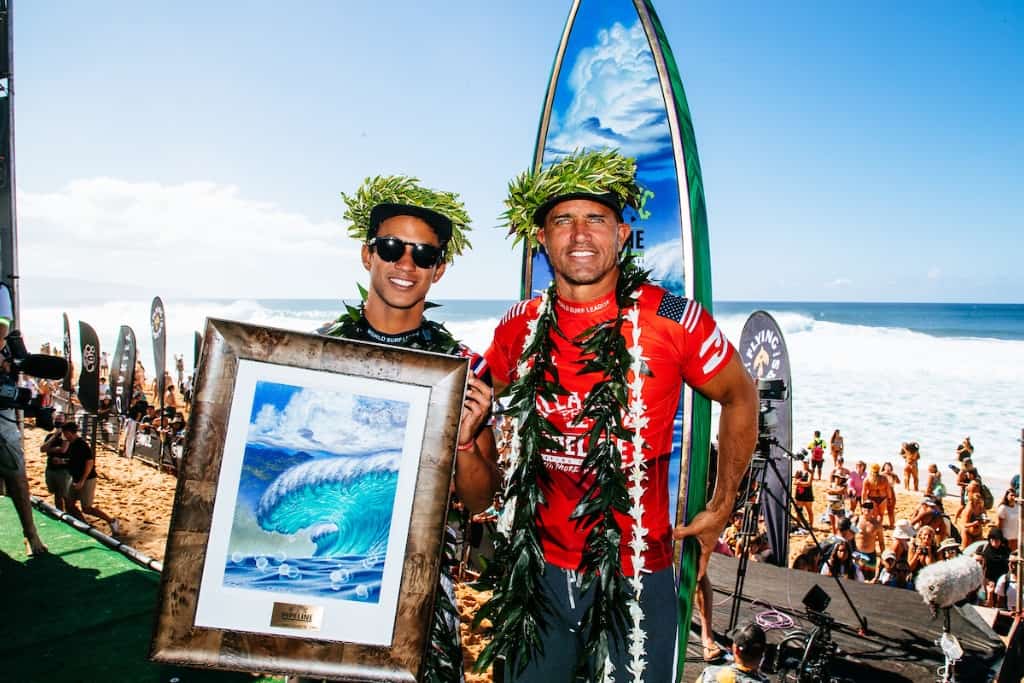 Kelly Slater & Seth Moniz at The 2022 Billabong Pro Pipeline award ceremony
Photo by Tony Heff / World Surf League
8th Title-Win 30 years after his first at Pipeline
This year's achievement marks a milestone for Kelly since it's 30 years since his first win at Pipeline. A title that he has managed to win eight times during the last three decades, and this year's win came just days shy of his 50th birthday.
Sometimes we forget how incredible Kelly Slater's career has been, but think about this for a moment – Seth wasn't even born when Kelly won his first Pipeline event back in 1992! It really puts things into perspective.
Kelly Slater already said before the final that he hoped to face Seth Moniz. He has a strong relationship with the whole Moniz family. Seth's father Tony is a former rival of Kelly, and now it has become his son's turn to challenge the goat. What a historic moment the two got to share!
Seth asked Kelly to push him before the final heat, to which Kelly responded; Let's go! and the rest is history…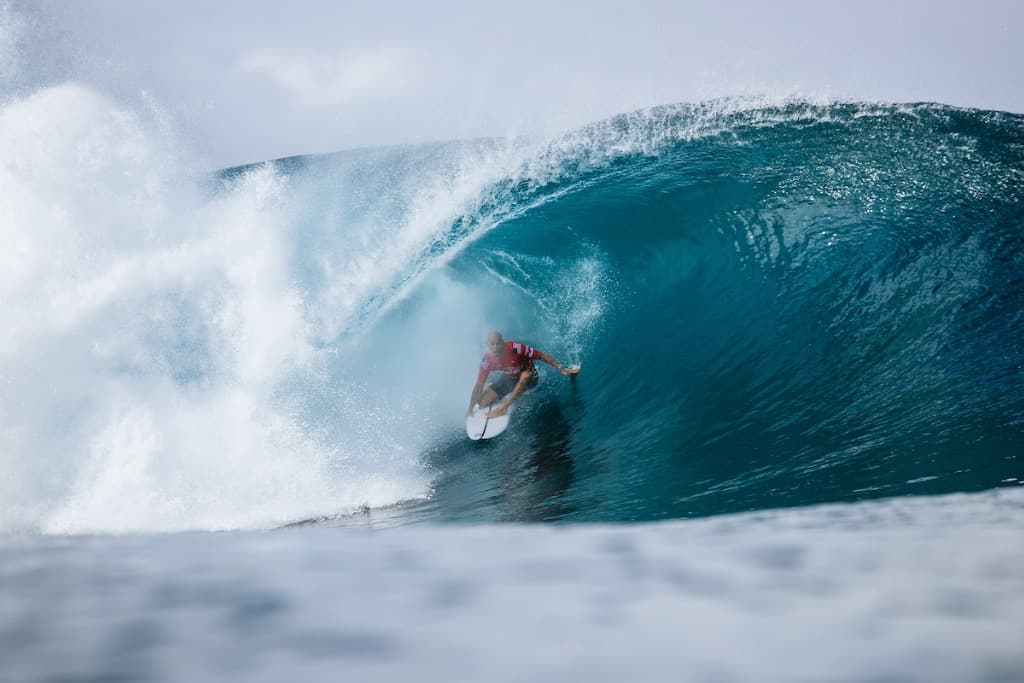 Photo by Brent Bielmann / World Surf League
Kelly Slater is The Goat within the surfing community, but to us, his legacy is bigger than surfing. He is a sports icon, and his achievements can be compared to the most important athletes of all time, such as Michal Jordan, Pelé, and Muhammed Ali. 
But it doesn't stop here because there is something that sets Kelly Slater apart from all the above. That's the length of his career.
As Makua Rothman said when covering the event. No one else is competing at the highest level at the age of fifty, and surfing is one of the most physically demanding sports. 
Kelly Slater Hints Retirement
Pipeline is a wave that Kelly has to build a special relationship with over the years, and that shows in his high success rate at this particular event. He has made 27 career appearances at Pipeline, made 13 finals, and secured eighth victories. During his speech at the award ceremony, Kelly said:
"I don't know how many more of these are gonna happen. This honestly, might be it. I might not show up to Sunset. I'm not sure yet, I will need to have a little talk to myself."
It probably came as a shock to many since that's the first time we hear him hint at possible retirement. But he is turning fifty this week. So we all knew the time was coming, even though we have been living in denial of this fact.
With the 2022 win at Billabong Pro Pipeline, he showed us that he is still a candidate for winning the world title. It is still difficult to say whether or not he decides to continue this year's World Tour and give the 12th world title a shot. But regarding his decision, both ways would be a beautiful ending to his impressive career.
While Kelly might consider retirement from The Championship Tour, the remaining athletes should still be worried about his competition at Pipeline, as he can still show up to the event on a wildcard.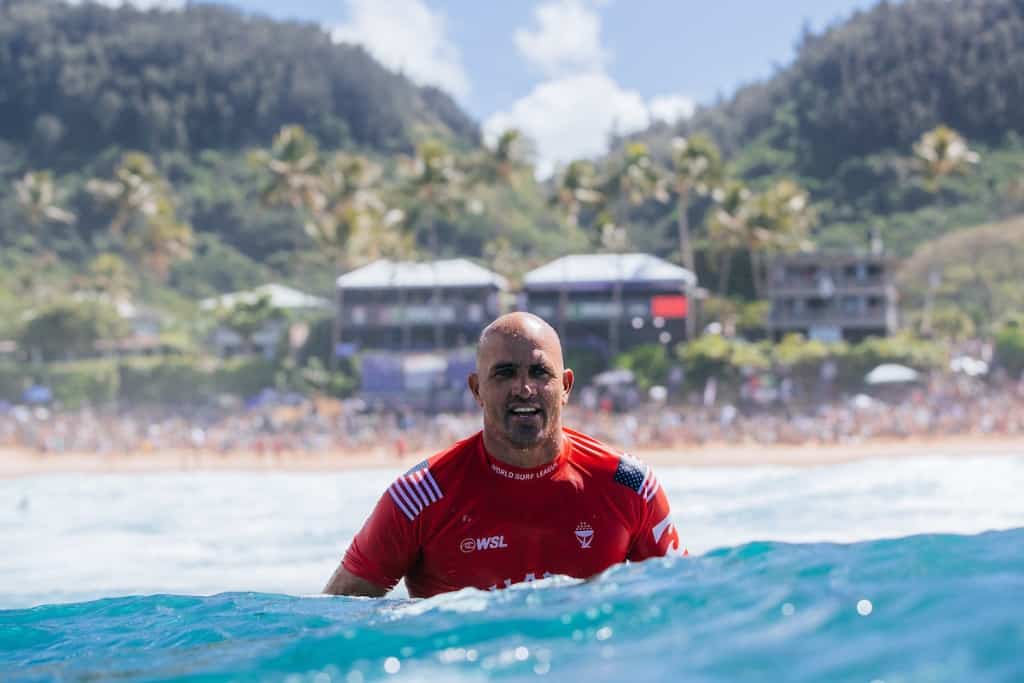 Photo by Tony Heff / World Surf League